| | | |
| --- | --- | --- |
| | Nanjing Xianlin | |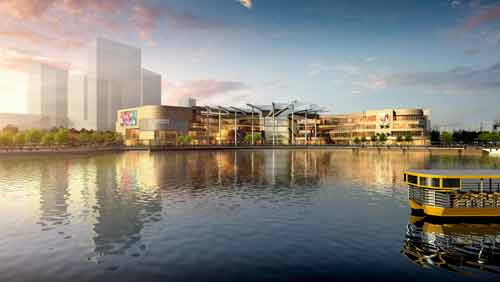 Nanjing Xianlin Store is situated at No.1 Xuehai Road, Qixia District, the core location of the developing sub-CBD. The total GFA of Xianlin Store is 42,795 sqm. Xianlin Store changes its business model into "Outlet Mall" for the first time in Nanjing. As at 31 December 2016, the GSP of Nanjing Xianlin Store reached RMB757 million in the full year.15.

On 11 November 2017, Zone B of Nanjing Xianlin Hubin Tiandi commenced operation. Located at the central business district of Xianlin University City in East Nanjing, the commercial project enjoys access to Metro Line 2 with GFA of approximately 160,000 square meters. It features the self-operated G•MART premium supermarket, G•TAKAYA boutique bookstore, and G•BEAUTY beauty variety store, as well as various experience-based amenities such as children's education, distinctive dinning, arts, culture and creativity, and boutique cinemas, etc. Along with Zone A of Xianlin Hubin Tiandi, a mature operation of the Group for years, coupled with amenities such as open-air park and sunken square around the lake, the project becomes a part of the landmark lifestyle experience center of East Nanjing.